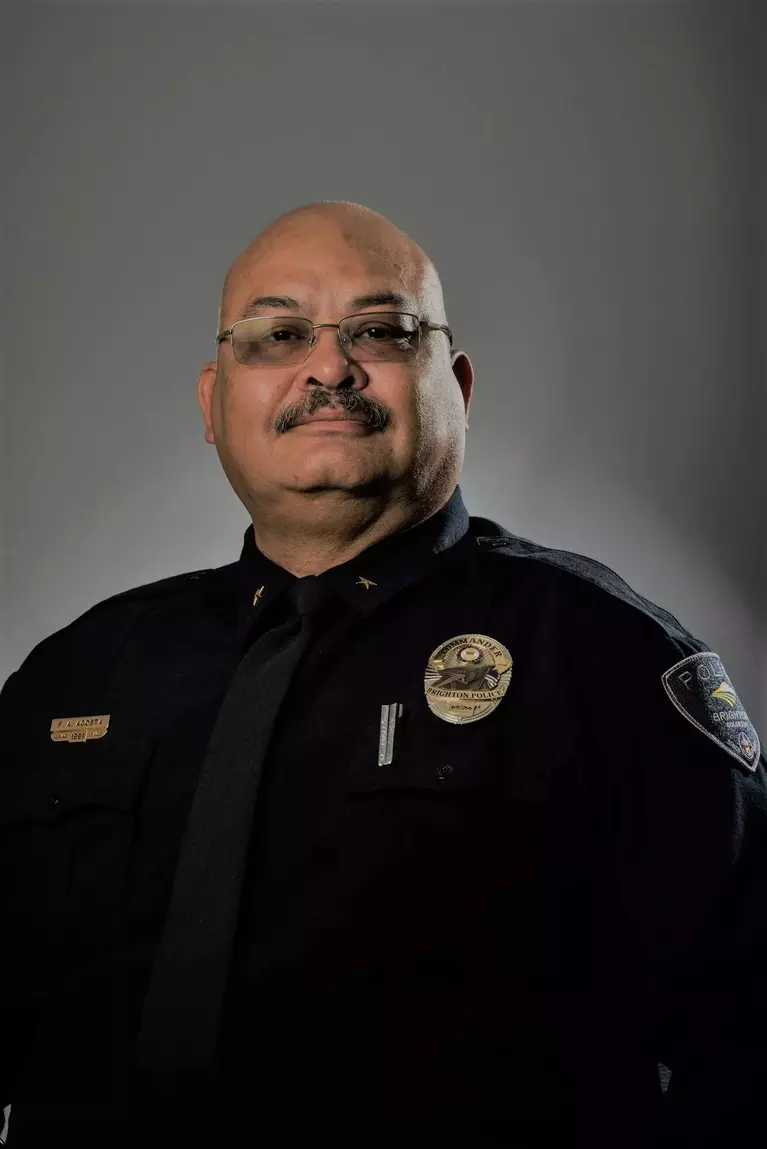 "In remembrance of his outstanding service – 1965-2022"
Secretary Treasurer
Commander
Brighton Police Department
On September 23, 2022, Brighton Police Department Commander Frank Acosta, 56, the outstanding CISC Board Secretary-Treasurer, pass away unexpectedly, apparently due to natural causes. We have placed a mourning bar across the CISC logo in his honor.
Commander Acosta was a true professional who was honored up and down the Colorado Front Range for his sense of humor, optimism, integrity, decency, caring and outstanding work ethic.
On his watch (from 2017 as a Board member and as Secretary-Treasurer since 2019), the financial standing of the CISC met and exceeded all Board, Member and public expectations.  His contributions to the health and mission of the CISC, and his ready, cheerful participation in the Day-to-day activities of the CISC (in addition to his regular duties) were exceptional.
More than anything else, the board, team and members of the CISC have lost a good friend. He was an energetic and humble man who represented and led others well.
Commander Frank Acosta, THANK YOU for your dedicated service, your passionate commitment to family, and for your dedication to the CISC.
#FFFFFF
The CISC Board will hold a virtual meeting on Thursday, January 12, 2023, from 0900-1200 hours. If you would like an invitation to attend, please get in touch with Executive Director David Shipley, (dshipley@adcogov.org).
Agenda:
Greeting – Roll Call.
Purpose of Meeting: Executive Session to Review Objectives and Strategic Vision Validation with contract consultant.
Motion to enter Executive Session
Executive Session –(closed to all but the Board and CISC team)
Exit Executive Session.
Next Board Meeting: Virtual Only on January 12, 2023, 0900-1200
Motion to Adjourn.
---
The public meeting will be available on Zoom.
Any interested person may attend the scheduled hearing and address the CISC via Zoom.
Please get in touch with Executive Director dshipley@adcogov.org if you have questions or comments, or to join via Zoom.
The public is always welcome.
---
The Agreement between the Government of the United States of America and the Government of the United Kingdom of Great Britain and Northern Ireland on Access to Electronic Data for the Purpose of Countering Serious Crime ("Data Access Agreement" or "Agreement")
WASHINGTON, D.C. Today, the Drug Enforcement Administration issued a Public Safety Alert warning Americans of the alarming increase in the lethality and availability of fake prescription pills containing fentanyl and methamphetamine. DEA's Public Safety Alert, the first in six years, seeks to raise public awareness of a significant nationwide surge in counterfeit pills that are mass-produced by…
Perhaps some of you saw one of the many sensational news articles this week declaring that the United States Senate voted to, "Allow the FBI to Look at Your Web Browsing History Without a Warrant." But that's not exactly what happened. Then again, does it really surprise us anymore when the press doesn't get the story quite correct? Here's what actually occurred, and what it means for you.